Shrinkage-Cone
New Design with a double wall metall vessel for easy heating and cooling with an external liquid temperature control unit!
A LASER Beam Measures the very early Shrinkage and Expansion of Building Materials: Touchless and with 1 Mikron Resolution
With Schleibingers patented innovation the Schleibinger Shrinkage Cone deltaEL it is possible to measure the shrinkage or expansion of fluid building materials in the first minutes and hours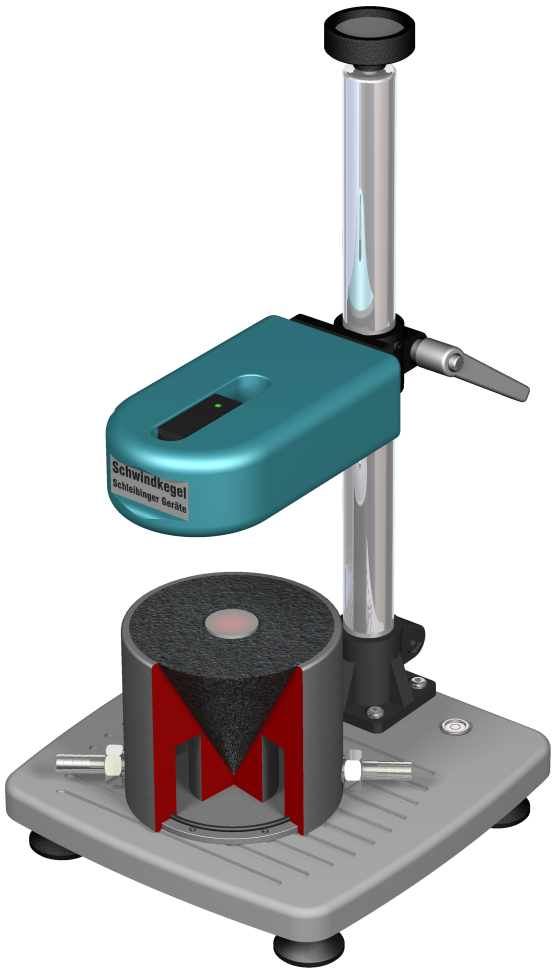 after start of mixing. The expansion of the building material is registered touch-less and very exact by a laser beam. There is no mechanical coupling between the fluid and the sensor necessary.
To ensure that the measured distance correlates with the relative length change of the material we use a special formed specimen container.
The length change is registered with a resolution of 1/10 mikron. The measurement values are digitized and stored by the software delivered with the system. Synchronous with the length change , temperature, rel. humidity may be stored by the software.
Measurement Procedure
Fill the fluid building material (2) into the cone formed specimen container (1)

The container is set under the laser unit (3), which is mounted on a high performance boom stand.

With a rack and pinion the distance is preset to about . 0 µm .

The automatic offset adjust is done by a mouse click on your PC (5).

An autonomous data logger will register your data for several weeks on an integrated CF-card memory

The data-logger has a network interface. You can easily readout the data, with any browser software like Internet-Explorer or Firefox

Look at a small video to see how it works...
Theory of Operation
For a angle of 60° the Volume V = 1/9 * pi * h³ . With h = 100mm V = 349 cm3
Example Measurement
The following graphic shows different cements, with different fineness
Literature
Autogenous shrinkage and time-zero of UHPC determined with the shrinkage cone
C. Mueller and S. Eppers
Creep, Shrinkage and Durability Mechanics of Concrete and Concrete Structures, Two Volume Set. Dec 2008 , 709 -714


Effect of the addition of ultrafine cement and short fiber reinforcement on shrinkage, rheological and mechanical properties of Portland cement pastes,
J. Kaufmann, F. Winnefeld, D. Hesselbarth,
Cement and Concrete Composites, Volume 26, Issue 5, July 2004, Pages 541-549, ISSN 0958-9465, http://dx.doi.org/10.1016/S0958-9465(03)00070-2.
(http://www.sciencedirect.com/science/article/pii/S0958946503000702)


Optimization of Self-Consolidating Pastes Containing Limestone Powder and Chemical Admixtures
J. Kwasny, M. Sonebi, and P.A.M. Basheer, Special Publication


Appliance for detecting initial expansion and shrinkage behavior of building materials based on contactless measurement of change in filling level of container of fresh material specimens until set
M. Greim, O. Teubert, Patent DE 10046284


Technical Data
Measurement Range
5 mm
Basic Distance
25 mm
Resolution
0.1 µm
Diameter of Laser Spot
0,8 mm
Volume / height mortar cone vessel
349 cm³ / 100 mm
Volume / height concrete cone vessel
682 cm³ / 125 mm
Laser Power
< 1 mW at 670 nm Class 2 according to
DIN EN 60825-1:2008-05 and IEC 60825-1:2007
Other measurement ranges also available. Recommended computer for readout the data logger: PC, one network port, Win XP...Windows 10, Linux, OS X, Android. Installed Internet Browser Firefox, Chrome , Opera or Edge 2016 and younger. Technical data maybe changed without notification, DBPa .
Resources